HOLLYWOOD CHAMBER OF COMMERCE HONORS THE "REAL DEAL" CHEF GUY FIERI WITH A STAR ON THE HOLLYWOOD WALK OF FAME
WHO: Honoree: Guy Fieri
Emcee: Retired President/CEO Leron Gubler
Guest Speakers: Academy Award-winning actor Matthew McConaughey, Kathleen Finch, Chief Lifestyle Brands Officer at Discovery, and the honoree's son, Hunter Fieri
WHAT: Dedication of the 2,664th Star on the Hollywood Walk Of Fame
in the Category of Television
WHERE: 6201 Hollywood Boulevard in front of Eastown
WHEN: Wednesday, May 22, 2019 at 11:30 A.M. PDT
The event will be live-streamed exclusively on www.walkoffame.com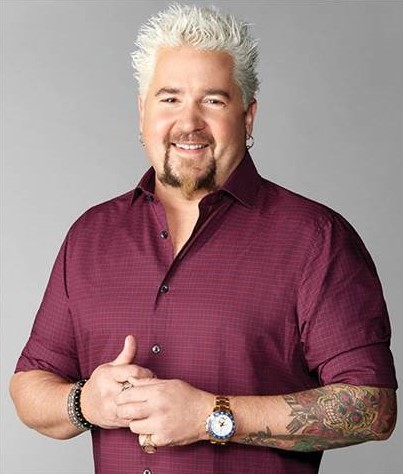 COMMENTS:

The Hollywood Chamber of Commerce proudly honored Chef Guy Fieri with the 2,664th star on the Hollywood Walk of Fame on Wednesday, May 22, 2019 at 11:30 a.m. PDT. The star was dedicated in the category of Television at 6201 Hollywood Boulevard in front Eastown.The Hollywood Chamber of Commerce which administers the popular star ceremonies encourages people who are unable to attend and fans around the world to watch the event exclusively on www.walkoffame.com."
A favorite saying of Guy Fieri's, particularly when he is conveying how great a dish is on his Emmy Award-nominated series, Diners, Drive-Ins and Dives, is to declare something "off the hook!' and that is how the Hollywood Walk of Fame feels about him, his creative talent with food and his presence in the television arena as a host and executive producer. We have just a few television chefs on our historic stellar walk and we are so proud to add him to our mix of Walk of Fame stars" said Ana Martinez, Producer of the Hollywood Walk of Fame. "We're ready to cook up some fun and bring Flavortown to Hollywood!" added Martinez.
Helping Emcee Leron Gubler, retired President & CEO of the Hollywood Chamber of Commerce, to unveil the star were Walk of Famer Academy Award® winning actor Matthew McConaughey, Chief Lifestyle Brands Officer at Discovery, Kathleen Finch, and the honoree's son, Hunter Fieri.
Guy Fieri, chef, restaurateur, New York Times bestselling-author, Emmy Award-winning television host and executive producer began his love affair with food at the age of ten, selling soft pretzels from a three-wheeled bicycle cart he built with his father called "The Awesome Pretzel Cart." After selling pretzels and washing dishes for six years, Guy earned enough money to pursue his dream of studying abroad as an exchange student in Chantilly, France. There he gained a profound appreciation for international cuisine that further strengthened his passion for food. He returned to the U.S. and graduated from the University of Nevada Las Vegas with a degree in Hospitality Management.
In 2006, Guy burst into the national scene when he won Food Network Star. Since that time, Guy has created a thriving culinary empire as the host and producer of top-rated TV shows including the long-running, five-time Emmy award-nominated Diners, Drive-Ins and Dives which airs on Food Network Fridays at 9pmand Guy's Grocery GamesairingWednesdays at 9pm, Triple D Nation and Guy's Ranch Kitchen (for which Guy earned a Daytime Emmy-nomination for Outstanding Culinary Host) and many more.
A prolific chef, he has opened over 63 restaurants around the world and at sea, from the Las Vegas strip to the Atlantic City boardwalk; from South Africa to Dubai; as well as authored six best-selling cookbooks.
In 2013, Guy fulfilled a personal passion with the launch of Hunt & Ryde Winery in Sonoma County, named for his two sons, Hunter and Ryder. He continues to support numerous charities including his own Cooking with Kids, the Make-A-Wish Foundation and Best Buddies International. He recently donated his time and efforts cooking for the first responders and displaced residents of the recent California fires.